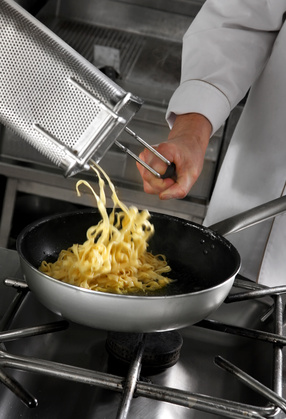 ---
CORPORATE FOOD SERVICES & WHOLESALE

---
If your operation requires that you satisfy a high number of customers that demand a quality product, delivered fast, PASTA ya GOTCHA! is the perfect fit.

We have established relationships with the most respected names in corporate and event food services. We are proud to work with such industry leaders as Compass/Eurest and Bon Appetite and customers including Microsoft, Boeing, Seattle University.



THE PASTA ya GOTCHA! PROGRAM ADVANTAGE


High Volume Output/Consistent Quality
Our proven program can deliver a freshly cooked-to-order pasta entree in 45 seconds or less from time of order. By following our simple to implement program this is accomplished while delivering a quality product famous for it's consistency.

15 Years of Established Brand Recognition
Many years of servicing some of the largest corporations, medical facilities, supermarkets, the state ferry system, our corporate restaurants and licensees and numerous colleges and universities, the PASTA ya GOTCHA! brand recognition is well established in the greater Puget Sound region.

Low Cost of Implementation
Don't want to spend a fortune on equipment and facilities? The PASTA ya GOTCHA! program can be implemented with minimum costs. We provide a complete assessment of your facilites at no charge.

Outstanding Portion and Cost Control
Our Portion Control Paks provide our clients the ability to deliver a consistent portion of pasta cooked al dente everytime. Our simple, and no-cost training program will insure your staff knows the importance of portion control with the sauces and garnishes as well.

Minimal Food Loss
Our program consistently provides one of the lowest spoilage rates in the industry. We deliver our sauces in easy to store frozen pouches and all pastas, sauces and garnishes are "cold hold" until customer order is received.

Flexible Program Structure Based on Your Requirements
In-House Option:
Purchase PASTA ya GOTCHA! products and use your staff to run the program. Initial staff training is provided at no cost.
Contract Option:
In qualified locations PASTA ya GOTCHA! will provide staffing and equipment to provide a "turn key" implementation of our program. The revenues are shared with the client based on volumes and other potential factors.

Selected Products Option:
Limited facilities driving you crazy? We can provide pastas cooked to your specifications and delivered in Portion Paks or bulk. Need to expand your menu selection but don't have capacity in your facility? No problem, we can provide any of our current sauces or manufacturer to your specifications.

Products Manufactured According to Industry's Highest Quality Control HACCP Standards
When you do business with the largest food service corporations in the world, you are held to the highest standards.

Program Proven By The Best
Our corporate food service client list is the who's who of the industry WorldWide. Our program comes with the peace of mind of knowing we have been meeting the expectations of the largest food service providers in the world for many years.


For A Complimentary Consultation and Facility Evaluation
Questions, Comments or Additional Information
Contact:

Dan Murray 206.291.7577
Daniel.Murray@themyxx.com


---