---
PASTA ya GOTCHA!

CATERING SERVICES
---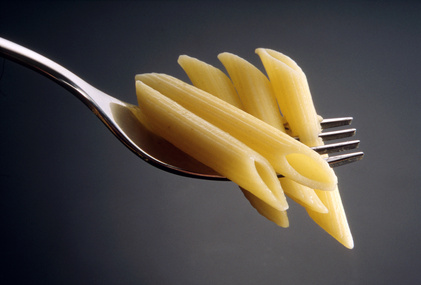 "NO STEAM TABLES
or
HEAT LAMPS ALLOWED"


At PASTA ya GOTCHA! we apply the same philosophy to our catering services that we apply to every other aspect of our business. FRESH-FAST-FANTASTIC is not just a catchy slogan to us, it's the way we demand our products are served every single time. This means that we NEVER use a steam table or heat lamps in our operations. If we can't cook it fresh for you when you order it, we are not going to serve you our product...period.

While this self-imposed, unbreakable rule, limits our caterings to larger groups, we know from experience that as an event planner or host, you and your guests won't be disappointed. The formula for us is simple. Tell us how many people you need to feed and the maximum acceptable time you want to allow for them all to be served and seated, and we will take care of the rest.


Our business requires that we serve hundreds of customers each work day at our corporate locations. This gives us the experience to provide you and your guests the same high quality service and products, under the most demanding time restraints.

A perfect example is a recent wedding reception for 150 guests. The couple wanted their guests to have a minimum of 5 entrees to choose from and 2 salads. The requirement was that everyone would be seated within 45 minutes from start of service. We offered 7 entree choices, including a special "Mac & Cheese" for kids, 2 freshly tossed salads and fresh country style Italian bread. All guests were served in just under 40 minutes.
We can work in just about any environment or facility as long as there is hot & cold running water available, we can supply everything else for the food service portion of your event. Just bring a minimum of 100 hungry guests, and we'll take care of the rest. We do all of this at a surprisingly low cost per guest.

Smaller groups can be accomodated, but a minimum charge would apply.
Consider one of our Delivery Service Options such as Dinner Delivery Plus , GRUBHUB or BiteSquad.

Check out our menu as we offer all entrees, plus salads and bread. Non-alcoholic beverages and desserts available as well.

We promise that your guests will appreciate the absence of "rubber chicken" and "mystery fish", while enjoying a FRESH-FAST-FANTASTIC pasta entree cooked to order just for them.

For A Quick Catering Quote
Questions, Comments or Additional Information
Contact:

Dan Murray 206.291.7577
Daniel.Murray@themyxx.com


---