Instead of Delivery – Find us Here
Lagetta Pasta & Pub in Seattle near Greenlake
Big Block Brewing in Redmond & Eastlake Sammamish
The Growler Guys (Seattle) in Seattle's Lake City Way Neighborhood
Are you a taproom, beer garden, or local market in the Greater Seattle area who'd like to offer "Heat-n-Eats" to your patrons?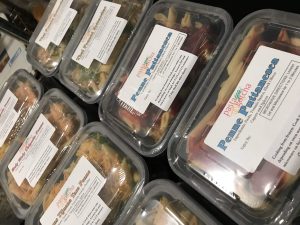 Call for pricing. We'll gladly customize your order!
Proudly Serving AMAZON in Seattle.
Proudly Serving Microsoft Since 1996
Please check The Microsoft Dining Services internal website for the current schedule.
Missing PyG and want us back in your cafe? Your feedback to @msdining matters!
Pasta ya Gotcha is available or has been in the following cafes:
CAFE 04, CAFE 09, CAFE 16
CAFE 25, CAFE 26
CAFE 31, CAFE 34, CAFE 36, CAFE 37
CAFE 41, CAFE 43, CAFE 50
CAFE 86, CAFE 92, CAFE 99
CAFE 109, CAFE 110
CAFE 112, CAFE 121
CAFE Advanta
CAFE Bravern 1 & 2
CAFE City Center
CAFE Lincoln Square
CAFE Millennium
CAFE Redmond Town Center
CAFE Red West, CAFE SammC
CAFE Studio H, Cafe Willows
We appreciate your business!